A good cannabis grinder goes a long way. Because, without a decent grinder, you risk stuffing your rolling paper with large chunks of marijuana that burn unevenly and ruin your experience. Not to mention the fact that you risk wasting a lot of product using bad marijuana grinders.
Related: Top 15 Vaporizer Online Shops in Europe 2020
Good cannabis grinders cut through the dry herb and chop it up to a small, flavourful and smokable size. They spare you from the time-consuming process of picking apart your herb by hand, and they can store enough herb to last for multiple smoking sessions.
There are plenty of cannabis grinders out there, but only the best marijuana grinders made it on our list. Without further ado, let's take a look at the top 10 cannabis grinders in 2020.
The Best Cannabis Grinders in 2022
AEROSPACED by 
Simple, elegant and enduring. This grinder is perfect every time and won't let you down no matter the grinding task.
FEATURES
4-Piece Grinder, Pollen Catcher, Aircraft-Grade Aluminum, Sharp, Diamond-Shaped Teeth, Shreds Material To Even Consistency, Anodized Finish, Multiple Size Options
Related: Top 25 CBD Online Shops in Europe in 2020
Cali OG Slick by
Cali Crusher received consistently high reviews as a highly reliable and non-stick grinder.
FEATURES
Heavy Duty aircraft-grade billet aluminum, Non-stick safe ceramic, Extra smooth and silent grinding motion, Micron stainless steel mesh for pollen filtration, Super sharp teeth aligned for a clean grind (no ripping), Tough and reliable, Great for travel
Zam Grinder by
The ZAM Grinder continues to impress us year after year! This small and compact marijuana grinder is air- and water-tight, allowing you to keep your product safe and dry even in unexpected circumstances.
One of the things we liked about the ZAM cannabis grinder is that its design enables users to hold both its body and its rotating lid securely, making the grinding process easier. The grinder has a modular design, so you can remove the pieces you don't use to make the grinder fit into your pockets or purse.
The ZAM's teeth are long, and its grinding compartment is deep, allowing you to grind more product at once. With no less than 14 teeth, the grinder will chop up your herb to a fine consistency in a matter of moments.
FEATURES
Air and watertight for sustained freshness!, Available in blue, black, and silver, CNC'd from a solid block of aluminum 6061, Anodized to prevent scratches/surface wear, 100-micron stainless steel screen, PTFE O-ring for smooth turning, Optional PTFE lining/de-bowler (sold separately), Ultrasonically cleansed to remove leftover unwanted manufacturing contaminants, Designed and assembled in Norfolk, Virginia, Full 6 month warranty and Limited lifetime warranty
OTTO by
Smart AI comes to grinders with OTTO by Banana Brothers. The world's first and only Automatic Cone Rolling Machine. Engineered and designed with the true connoisseur in mind, the OTTO's patented AI milling system analyzes your material and automatically adjusts the direction, speed, and pressure of its precision-engineered milling blades to create the perfect grind every time.
FEATURES
Smart tech milling system, self-loading cones (sold separately), Limited 1 year warranty.
Klip Grinder by
Once again this grinder may simply be the best all-around grinder we have ever seen. The HØJ KLIP is a cannabis grinder Strain Insider featured in the past. But the truth is that we simply love this marijuana grinder and couldn't miss out on the opportunity of including it in this top 10 article.
What really makes the HØJ KLIP stand out is its durable yet sleek construction. The KLIP is made out of aluminum, stainless steel, polished brass and rare-earth magnets. Further, its design makes it look more like a futuristic gadget than a cannabis grinder. Despite its compact size, this marijuana grinder is heavy and stable.
The HØJ KLIP uses custom-made dual-blades to slice through the product, and the result is a herb that's small and has a fluffy consistency, making it easier to burn. The grinder's design allows almost every microgram of herb to drop into its bottom chamber, enabling you to get the most out of your product.
FEATURES
Air- and water-tight. Capable of keeping your herb in top condition for a long time.
Opulent by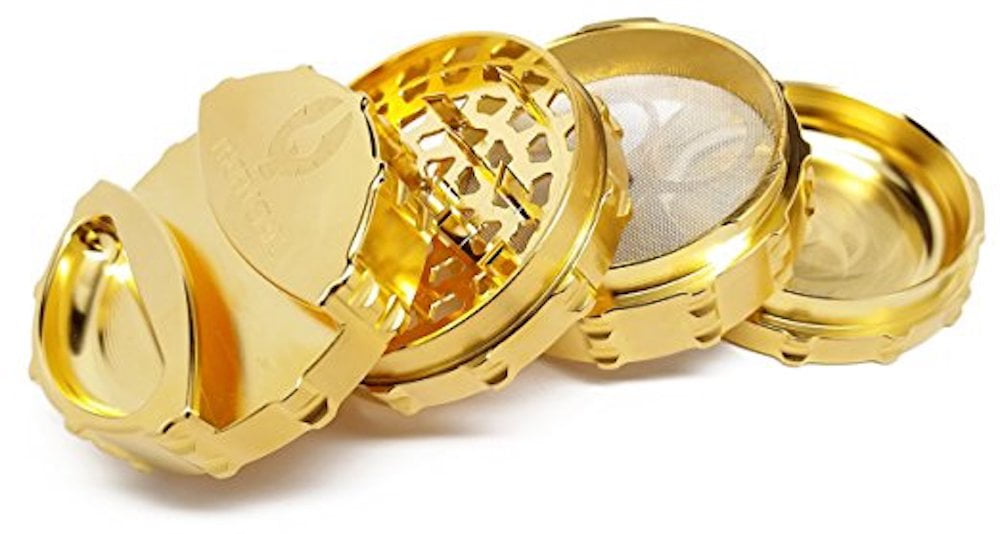 In the category of luxury grinder we have the Opulent by Phoenician. This 24K gold Antikythera beauty combines opulent luxury with flawless functionality. In fact, this may be the only grinder that appreciates in value year after year!
FEATURES
Quick Lock Design – No More Cross Threading!, A Plethora Of Large Trapezoidal Drop Through Holes, Manufactured In The USA With Medical-Grade Materials, A Replaceable Screen Making It Easy To Clean Or Customize, A Bevelled Bottom Chamber With A Guitar Pick Scraper Included, Diametrically Cut Razor Sharp Teeth That Sheer Rather Than Shred, All Phoenician Grinders Come With A Limited Lifetime Warranty
iRainy New Grinder by
The iRainy New Grinder remains one of the most cost-effective grinders available. This small marijuana grinder has a modular design made out of five pieces that create four different chambers. The modular design allows you to use the grinder with all five pieces in place or even without some of them.
However, you should keep in mind that its two different mesh screens allow only the finest, fluffiest herb to reach the bottom chamber and, ultimately, the rolling paper, so you should use both at the same time.
FEATURES
Compact lightweight modular design and spacious collecting chamber, lightweight, lifetime warranty.
Tectonic9 Autodispensing Grinder by
Fit for an emperor the Tectonic9 marries the reliability & durability of a traditional grinder with an electronic even-dispensing mechanism to give you the best from a traditional grinder with modern convenience.
FEATURES
The reliability of a traditional grinder married with automatic dispensing, Designed for portability and suitable for harsh outdoor environments, Built-in vibration motor optimized at the perfect vibrational frequency, Internal structure designed to facilitated a unobstructed even dispensing experience, Viewing window with LED light to check herb storage quantity, Slidable dispensing gate securely stores the herb, Hidden flip spout to accurately position your aim, 28 CNC manufactured diamond shaped grinding teeth for a perfectly fluffy grind, Space grade anodized aluminum alloy body, textured grinding grip with a sleek matt finish, One button user friendly interface.
GR8TR V2 Jar Body Grinder by
An update on our classic GR8TR model, the V2 features premium food-grade anodized aluminum, interchangeable grinder plates, anti-residue and friction rings, and our signature versatile design. What makes the GR8TR so adaptable? In addition to delivering the smoothest ground herb, this iconic Kannastor accessory can be easily broken down into a storage puck for easy traveling. No other grinder on the market has this many versatile configurations.
The updated Kannastör GR8TR V2 features food-grade anodized aluminum, interchangeable grinder plates, anti-residue and friction rings, and our signature versatile design. What makes the GR8TR so adaptable? In addition to delivering the smoothest ground herb, this iconic Kannastor accessory can be easily broken down into a storage puck for easy traveling. No other grinder on the market has this many versatile configurations.
FEATURES
Modular design. Interchangeable graters. Very fine grind. See-through body, Limited lifetime warranty.
DOT INFINITY CARD by
What if you left your desktop grinder at home and opportunity presents itself? This low cost, portable and effective grinder will save the day!
FEATURES
Simple by design. Grate, Clean, Repeat, NO BATTERIES!
Mamba Electric Grinder by
The Mamba Electric Grinder grinds your herb to the perfect consistency-unlocking hidden tastes, aromas, & potency for elevated experiences. The Mamba Herb Grinder also comes complete with a precise cone-shaped dispensing system which allows users to fill vapes, pipes, rolling paper, or stash containers without wasting any material in the process.
FEATURES
One hand no-touch sanitary mechanism, 15x faster than hand grinders, no-clog, no-jam, perfect grind, rechargeable.
Vetements Necklace Grinder by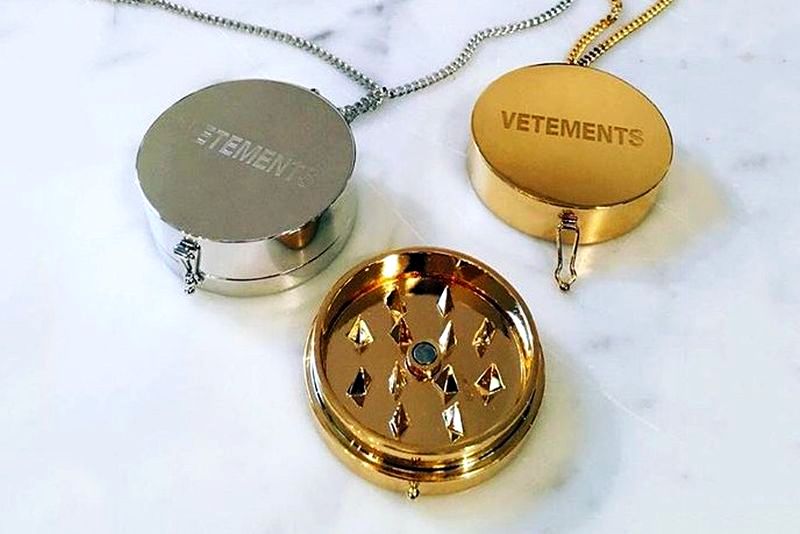 From Zurich-based luxury apparel designer Vetements comes a stylish wearable grinder necklace. Elegant and simple, what else can we say?
FEATURES
** This may be the most sought-after grinder on earth! If you can find one keep it!
Grip Edge Grinder by
The Mendo Mulcher cannabis grinder once again appears on our top 25 grinders list. This small 2-piece model is perfect for those who want to keep their cannabis grinder close when they're on the go. Even though this is one of the smallest grinders that made our list, you shouldn't let its small size fool you.
The grinder is made out of aircraft-grade aluminum and has a good weight for its size. The extra-grippy construction ensures that your hand won't slip and you won't drop the cannabis grinder while you work on your herb.
** Being so compact, however, this grinder does not have a mesh filter and is not recommended for those who want to separate the kief!
FEATURES
Small, compact, simple 2-piece design, lightweight, durable, magnetic lid, no-loss design, full lifetime warranty
SHARPSTONE V2 Clear Top Grinder by SharpStone
The new and upgraded SharpStone V2 Clear Top Grinder by SharpStone is all about precise and enduring construction. Everything from ergonomics, peg design and kief retention have been well thought out.
** Beware of counterfeit products!
FEATURES
High-quality anodized aluminum construction, magnetic lid, no questions asked return guarantee, excellent kief retention
KOZO Grinder by
The newly updated Kozo Grinders cannabis grinder remains a Strain Insider favorite but now with 2x increased capacity and no-spill features.
One of the great things about the Kozo cannabis grinder is that it comes with some really SHARP teeth. Its teeth have good, sharp edges that will chop up your herb to an even and fluffy texture, ensuring a nice and even burn.
The knurling on the grinder's edges makes it easy to grip and work with, and the entire grinding process is fast. The bottom is stable and pretty tall, enabling you to unscrew it without spilling the herb.
FEATURES
High-quality durable materials, strong no-spill magnetic lid, excellent blade mechanics
Santa Cruz Shredder by
Don't be fooled by the simple appearance of the Santa Cruz Shredder. This Cannabis grinder is the result of a series of refinements by the engineers of one of the best grinder companies in the world.
FEATURES
Unique teeth design produces consistent fluffy ground cannabis. Smooth action and easy grip chassis with solid closure rare earth closure magnet.
GILDER GRINDER by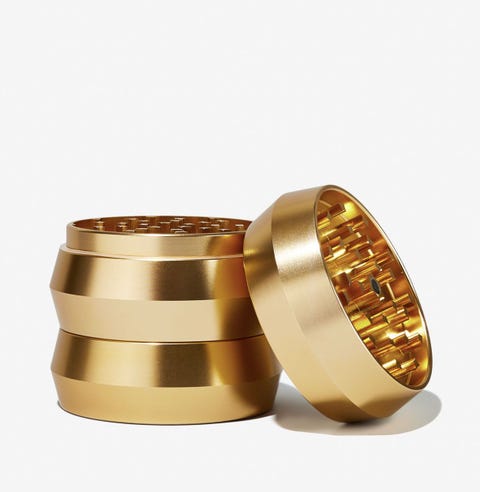 The width of the 3-Tier Gilded Grinder enables you to grind more, faster. Perfect for entertaining, be the party hero and grind enough for the whole group in one go, or quickly grind as much as you need for your DIY infusions when inspiration hits in the kitchen. The wide plate, diamond-sharp teeth, three tiers and deep-set bowl
FEATURES
Physically an objet d'art. Functionally excellent. Expensive and does not feature a kief screen, although the company is quick to point out that the tooth geometry retains the kief in the flower at a minimal loss. a good choice for large volume needs.
GOLDEN BELL GRINDER by Golden Bell
The Golden Bell Grinders cannabis grinder has a nice design and a lovely finish. Created using heavy-duty zinc, this model is sturdy but lightweight. The marijuana grinder comes with four pieces that create three chambers. Its mesh screen allows only the smallest bits of herb to reach the storing chamber, so you can rest assured that all your product will burn evenly.
This model uses sharp teeth to grind your herb to fine particles. The teeth can easily cut through cannabis, and, thanks to the Poly O-Ring, the grinding process is smooth and fast.
The Golden Bell Grinders cannabis grinder is small, tough and reliable. Also, the manufacturing company is so confident in the grinder's quality that it offers a lifetime warranty.
FEATURES
Lifetime warranty. Smooth grinding.
MEDtainer XL Grinder by
Ths grinder will appeal to those consumers wishing discretion and the ability to avoid confusion of purpose. Perhaps produces a better grind for vaping versus smoking.
FEATURES
Airtight and watertight with 2-way humidity control. Smell proof. Medical grade plastic. Discreet (very) shipping.
HEMSON LUXURY GRINDER by
The luxury brand Hemson Grinder is made to stand the test of time and get better with age.  Made from hand-turned American walnut and solid aluminum core.  This herb grinder is both tough and durable while looking beautiful & inconspicuous on a shelf.  Features include an oversized body for easy grip and ergonomics as well as a large storage basin for storage.
FEATURES
Hand-turned American walnut body / solid anodized aluminum core, magnetic closure, Oversize storage basin, ergonomic shape, angled teeth to avoid herb compression, ¼ turn (easy) access to storage basin, natural wood grain (every grinder is unique). Teeth are sharp!
THE RIPPER CLASSIC GRINDER by Herb Ripper
Quite possibly the best designed manual grinder on the market with solid-state 100% stainless steel chassis and multiple customizable features. The thoughtful ball agitator complements the already superb ergonomics.
FEATURES (Customizable)
100% medical grade stainless steel, Strong magnetic lid, Sharp teeth and custom thread design, Deep cutting area allowing for more product in a single grind, alternate plates for coarse, medium, and fine grinds (available upon purchase), Micro-screen* (customizable for finer applications), Stainless steel ball agitator (placed on top of screen to agitate pollen through the pores), Kief catcher/chamber with mini pollen scraper, Sleek matte finish, Dishwasher safe and easy to clean.
Chromium Crusher Grinder by
High on the list of well made and highly durable zinc-alloy grinders is the Chromium Crusher. Four piece construction with 500 micron kief catcher ensures you keep all of your precious product.
FEATURES
Durable, GRINDS does not chop or cut, multiple sizes, colors and configurations, long track record and lifetime warranty.
Stainless Steel Grinder by
The Iaso Grinder incorporates everything that a perfect grinder needs to be and immortalizes it in medical-grade stainless steel. My personal favorite what else can I say.
FEATURES
2.5" in diameter, Constructed out of 100% Medical Grade Stainless Steel, Sharp diamond-shaped teeth and deep cutting area, Smooth & Seamless grinding experience , Knurled lid and bottom for exceptional grip and comfort, Removable Stainless Steel Kief Catcher Screens (available in fine and medium micron), Heavy Duty Magnetic Lid, Sleek Stainless Steel Finish, Specially-designed curved bottom chamber for easy gathering of material or kief, Dishwasher Safe + Easy to clean, Gift Packaging Available- Comes packaged in a Vermont-Made novelty wood puzzle box, Limited Lifetime Warranty, 100% Money Back Guarantee
Easy Grinder Clear by
If you are cool this is your grinder. Please note I didn't say this grinder will MAKE you cool but it's a good start. Keep a full 2g of your favorite product under "clear" observation while you "easily" perfect your grind.
FEATURES
USB Rechargeable – 1-hour charge provides up to 300 grinds, 4 LED Battery Life Indicators, Clear Glass Chamber – Clear glass shows you how coarse or fine your herbs are, Capacity – Grind up to 2g of herbs, Easy Dispense – Unscrew the top to dispense the herbs through the dispensing hole
Cannabis Grinder by
The Golden Gate Grinders cannabis grinder is a short and robust model that's made out of high-quality aluminum. This grinder is durable and comes with a scratch-resistant finish that will keep it looking like new for a long time.
This marijuana grinder is well designed, and its teeth cut through the herb without ripping or shredding it, and without leaving large chunks behind. Even though it's short, the grinder's centre of gravity is nicely balanced, allowing you to turn the lid smoothly and without toppling the entire thing.
One of the things we liked about this model is that it comes with a good kief screen. Using the grinder on a regular basis can help you collect a lot of kief over time.
FEATURES
The grinder's kief screen acts like a kief magnet. It collects a LOT of kief in the grinding process.
The post Top 25 Cannabis Grinders and Crushers in 2022 appeared first on Strain Insider.


#Top #Cannabis #Grinders #Crushers