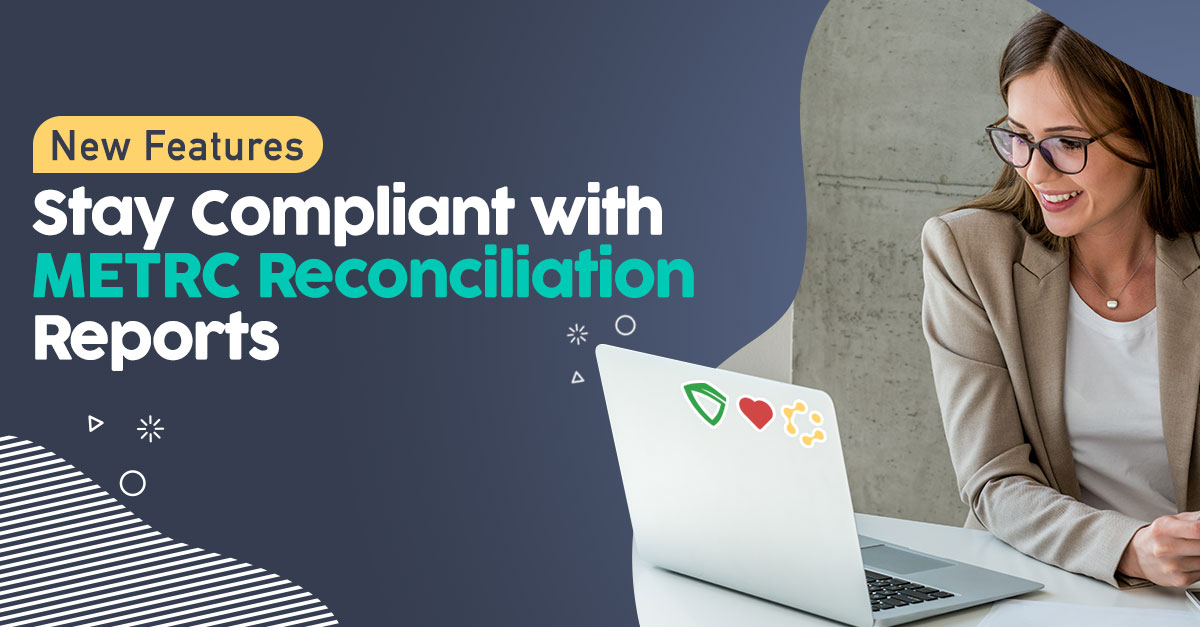 Most cannabis regulatory authorities in the United States use Metrc as their seed-to-sale tracking system for dispensaries. MetcThe goal of is to create safety and transparency for consumers in the cannabis industry, which also benefits dispensary operators. While the seamless integration between Metrc and an advanced cannabis POS system like Cova simplifies compliance reporting for dispensaries, synchronization and inventory adjustments can sometimes be a challenge. Manually counting inventory with what is reported on Metrc can lead to errors, which can be avoided with advanced Metrc reconciliation reports, now available to all dispensaries using Cova POS in Metrc states. These reports use real-time data from Metrc and Cova and will immediately reflect inventory changes or adjustments made in either system.
What is the Metrc Reconciliation Report?
Metrc Reconciliation Report is a tool available on Cova POS for cannabis retailers to compare their dispensary inventory between the Cova POS system and Metrc and easily spot any discrepancies. Because this report is instantly available at your dispensary's point of sale, you can take the necessary steps to ensure that your inventory on both systems is accurate and in sync. The Metrc reconciliation report uses real-time data from Metrc and Cova POS and immediately reflects inventory changes made in either system so you don't have to wait until the end of the day to sync changes for Metrc compliance reports.
How does the Metrc reconciliation report simplify compliance?
The Metrc Reconciliation Report is a new feature available on Cova POS that will save cannabis retailers a lot of time and ensure real-time conformity by automatically syncing inventory to Metrc and Cova. This report displays each package on the Cova POS system and its corresponding details on the Metrc tracking system.
It allows you to detect discrepancies at a glance via the "Difference" column of the report generated on Cova POS.
It helps you synchronize your Cova and Metrc inventories in real time.
You can easily keep your Metrc inventory up to date and always stay compliant.
How do I work with the Metrc reconciliation report?
To view the Metrc Reconciliation Report, you will need the "View Traceability Reconciliation Report" permission on Cova. Retailers using Cova POS can learn more here. The report can be easily generated from the Compliance section under Reports and Analytics.
The report lists all the packages that are in the selected Cova location or its corresponding Metrc license.
The list can be sorted to put the item with major gaps at the top (positive or negative).
Quantities on Cova POS are automatically converted to Metrc's unit of measure to ensure accurate comparison.
Detect deviations, save time and stay compliant
The main purpose of using the Metrc reconciliation report is to find cannabis inventory discrepancies immediately and act on them as soon as possible. When a report is generated, any discrepancies between the Metrc and Cova systems will be flagged at the top of the report. Once you have identified a discrepancy, the item may need to be adjusted in Cova or Metrc. But before making any adjustments, it's worth checking the Traceability Dashboard to make sure there isn't a Failed Sale pending processing that explains the difference. There may also be a difference if a manifest has been received in Metrc but has not yet been received in Cova.
Simplify METRC compliance with Cova POS
Seamless integration dispensary outlet as Cova automatically sends every buy and sell transaction to Metrc in real time and corrects errors with automatic adjustments. With Cova's automated sales reports and offline mode, you can pursue sales at your dispensary without worrying about Metrc compliance reports. In the event of a connectivity issue, all recorded data automatically syncs once you're back online, ensuring you're still using a compliant dispensary.
This new reconciliation report functionality is also available to retailers in states that use BioTrack as their traceability system. Whether you are in a Metrc or BioTrack state, Cova POS allows automatic synchronization of all your cannabis inventory in real time with the state tracking system. Our customers across the US are already benefiting from Cova's seamless integration with Metrc that syncs every transaction in real time and simplifies compliance. Book a demo with us to see how Cova can be your best partner for streamlining dispensary management.




#Dispensary #Compliant #METRC #Reconciliation #Reports