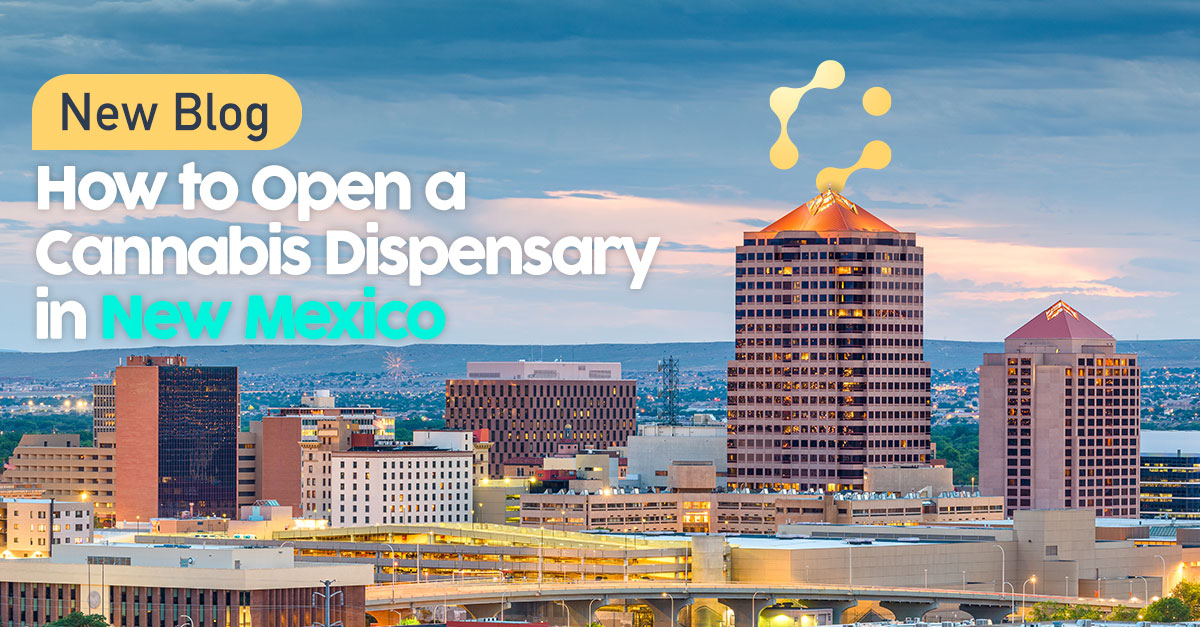 In June 2021, New Mexico joined the growing list of US states to legalize recreational cannabis for adult use, opening the doors to a thriving local market. The Cannabis Regulation Act (LRC) established New Mexico Dispensary and Cannabis Laws and assigned regulatory responsibilities to the Cannabis Control Division (CCD) and the new Cannabis Regulatory Advisory Committee. For prospective entrepreneurs considering opening a cannabis dispensary in New Mexico, CCD will be the administrator of all licensing and regulatory provisions for recreational and medical marijuana dispensaries.
If you wish to apply for a legal dispensary license in New Mexico, you can complete the application process online through the CCD website. But before submitting your application, good preparation is the key to success. Not only is it essential to familiarize yourself with cannabis laws, but you should also be well equipped with a detailed understanding of how to open a dispensary in New Mexico and set your business up for success.
Thousands of applications for recreational dispensary licenses in New Mexico have already been submitted, making it extremely important to lay the groundwork for compliance, retail operations, effective management, and more. Every part of the process is vital, from learning how much does it cost to open a dispensary to the selection of a robust dispensary software system.
How to Open and Run a Dispensary in New Mexico
Plan to spend about 6-12 months preparing to launch your dispensary. While starting a new business is complex, this is especially true for a dispensary. In reality, many of the pre-opening tasks are ongoing responsibilities that you should expect to consistently prioritize. For example, the work involved in obtaining a dispensary license, developing an inventory management system, and strategizing a marketing plan will continue.
New Mexico also has requirements in place for cannabis businesses to provide a social and economic equality plan (in addition to other application documents). This means that each candidate must submit a concrete strategy to encourage social and economic diversity in their employment efforts. Keep reading to learn more about how to open a successful dispensary in New Mexico, as well as tips for maintaining profitability, compliance, and long-term success.
1. Draft a business plan with a focus on compliance
Every new business must start with a well-formulated formula business plan, and a dispensary is no exception. However, dispensaries should pay particular attention to integrating measures to ensure compliance into their short- and long-term business strategies. From day one of operations, all recreational and medical marijuana dispensaries in NM must comply with all regulations. Please note that it is the responsibility of the dispensary owner to keep abreast of any regulatory changes, implementing additional requirements as necessary.
Below we have provided a very brief summary of the main recreational marijuana laws in New Mexico for quick reference:
Dispensaries can sell to adults over 21 years old. Appropriate ID for age verification purposes is required.
Current purchase limits

are set at 2 ounces of cannabis flower, 16 grams of concentrate, and 800 milligrams of cannabis edibles.

Medical marijuana dispensaries are allowed to obtain a recreational license and operate both entities in a shared location.
A 12% excise tax is in place until July 2025, increasing thereafter. This tax does not apply to patients/caregivers registered with the MMJ.
All dispensary packaging must include warnings for any potential adverse events, NM poison control hotline information, and be child-resistant.
All NM clinics should use a cannabis point-of-sale and inventory management system, which integrates with BioTrack, the state's official cannabis monitoring system.
Please note that the above is only a brief summary of the regulations and should be used as a sole source of legal information or advice.
2. Prioritize inventory management
Effective inventory management is more than just smart business practice; it is a legal obligation for your dispensary. Ideally, you'll choose a robust cannabis POS system that offers an excellent and efficient approach to inventory management.
Invest in a cannabis inventory management system that aligns with CCD regulations. For example, dual-licensed New Mexico dispensaries offering medical and recreational cannabis must reserve a minimum of 10% of inventory for MMH patients. Additionally, seamless integration with BioTrack is a must. Opt for automated reports to make the process as convenient as possible.
3. Use a reliable cannabis POS system
A high-quality cannabis retail POS system is essential for your dispensary, both for the sake of compliance and quality/efficiency of service. Cova's dispensary point-of-sale and inventory management system meets all reporting requirements and integrates seamlessly with official reporting systems, including BioTrack.
In addition to providing exceptional quality performance and reliability, Cova Software also includes all compliance-related features, such as:
Application of purchase limit
ID scanner for age/card verification
Built-in tracking and reporting
Product Equivalence Conversions
Your cannabis POS system is one of the most important investments you will make in your business. The right system will equip your dispensary with the tools and efficiency needed to build a thriving business.
4. Choose dispensary equipment
In addition to software, you will also need to equip your dispensary with basic hardware such as scales, displays, drawers, scanners, and tablets. Before purchasing dispensary hardware, confirm that the options selected are compatible with your preferred POS/inventory management systems.
5. E-commerce and delivery services
Online ordering and delivery is currently available for NM medical marijuana dispensaries and is expected to be allowed for recreational dispensaries in 2022. Whether you are launching an MMJ or a recreational dispensary, developing an online ordering plan and cannabis delivery is essential. These options are tightly regulated and a well-designed POS system with native e-commerce tools will be unavoidable. Prepare with a strategy for the data collection, documentation, reporting, and seamless integration needed to ensure your online cannabis store accurately reflects your overall cannabis retail business plan.
6. Stand out from competitors
Once the recreational cannabis market begins to explode in New Mexico, competition could be intense between new and existing dispensaries. Therefore, figuring out how you will set your business apart from your competition should be a major focus. Ask yourself: what will your clinic offer that others in your area do not? Perhaps you will focus on a niche market and product selection, create a dispensary shopping experience, or even make a name for yourself as a quality service leader. Make it a top priority to build a brand that encompasses your dispensary's mission, key principles, and more.
7. Know your target market
Understanding your target NM cannabis customer will make it easier to effectively strategize for marketing and day-to-day operations. For example, a comprehensive cannabis tracking and reporting system can provide valuable data about your dispensary's traffic, demand for certain products, and other details that can help you better understand your market. As a result, you can make smart decisions regarding product sourcing, advertising, and other aspects to increase profitability.
Choose the right cannabis technology partner
Cova has established trusted relationships with local and national dispensaries, supporting the launch of a wide range of cannabis businesses. If you're considering starting a cannabis dispensary in New Mexico, Cova POS software is an essential tool for balancing compliance, profitability, and customer service. With our innovative cannabis retail software, you can streamline day-to-day operations and aim for lasting success. Sign up for a free cannabis POS software demo today and learn how Cova can help you establish a successful dispensary business in New Mexico.




#Open #Run #Cannabis #Dispensary #Mexico