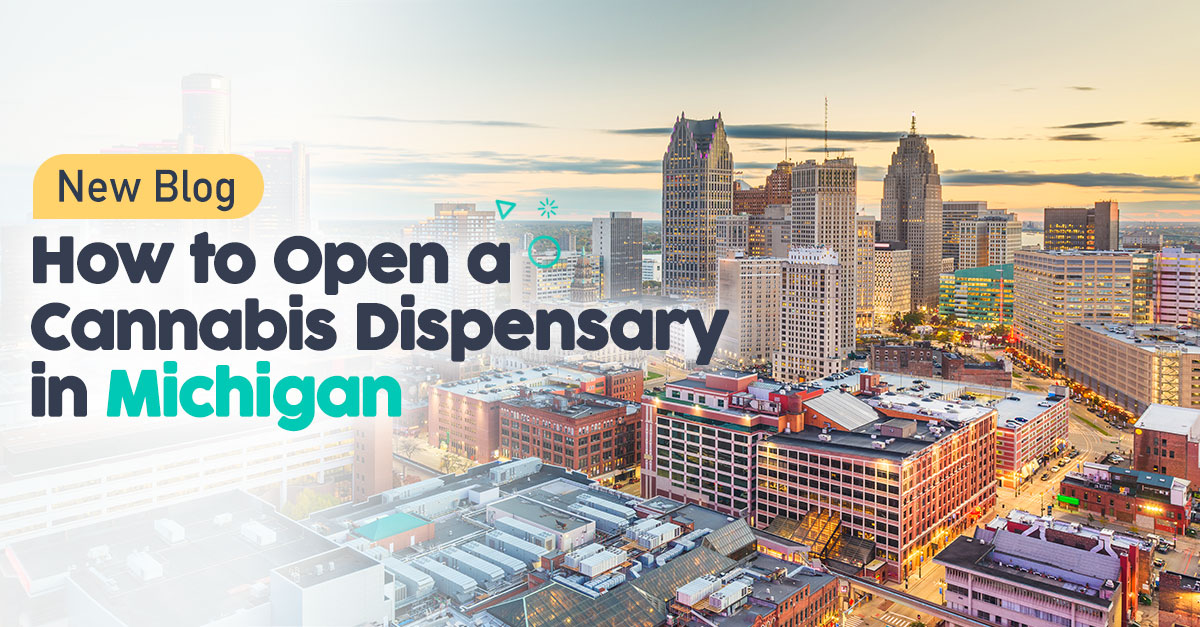 Michigan was the 10th U.S. state to legalize recreational cannabis, officially opening the door to retail sales of medical and recreational marijuana in late 2018. Managed by the Michigan Marijuana Regulatory Agency (MRA), the MI Cannabis Dispensary Laws describe all regulations for potential and existing dispensaries.
In the state of Michigan, medical marijuana dispensaries are called "supply centers." Initially, only dispensaries that held medical marijuana licenses were allowed to apply for an adult use license. But now the application process is open to everyone, and the cannabis retail industry in Michigan is booming.
If you are interested in opening a cannabis dispensary in Michigan, reliable information will be among your greatest assets. Proper preparation is essential when applying for an MI dispensary license and to succeed in this highly regulated industry. You must remain compliant with all laws and regulations when operating a cannabis dispensary in Michigan. For example:
A dispensary owner is responsible to know that sales of recreational cannabis can only be made to adults 21 and older, while medical marijuana supply centers must limit access to authorized MMJ patients.
The sales limit is 2.5 ounces of cannabis or 15 grams of cannabis concentrate per person.
Other details, including tax, inventory control, tracking and reporting requirements, are also crucial. Keep reading for more details on starting a dispensary in Michigan, including a summary of licensing procedures, reporting regulations, and more.
Michigan Marijuana Retail Landscape
Although medical marijuana was legalized in 2008, allowances for medical dispensaries were only created in recent legislation. As a result, there are plenty of opportunities for growth-minded entrepreneurs who are ready to claim their rights.
Moreover, the MRA Social Equity Program implements provisions to encourage diversity in the cannabis industry, specifically aimed at providing opportunities for people from communities disproportionately affected by pre-legalization cannabis laws. Eligible participants may qualify for reduced dispensary license fees.
How to Open a Dispensary in Michigan
Developing a solid business plan is the first step in opening your dispensary. Plan a minimum of 6 to 12 months before your opening, and allow enough time for the various steps (application, authorization, etc.). You should also search how much does it cost to open a dispensary in Michigan so you can plan four finances accordingly. The type of license you need will depend on the installation you plan to operate. There are different types of dispensary licenses in MI, including those for medical and recreational marijuana.
Michigan Marijuana Facility Licenses
There are two main types of marijuana facilities in MI: medical marijuana dispensaries (referred to as "supply centers") and recreational dispensaries.
Types of Recreational Marijuana Licenses
Recreational marijuana laws in Michigan were established by the MRTMA Lawand allow many license types, such as:
Recreational cultivation of marijuana (Classes A, B and C)
Security Compliance Facilities
Secure carriers
Designated consumer establishments
Micro-enterprises
Marijuana Event Organizers/Temporary Event Licenses
Marijuana retailers
Medical Marijuana License Types
MMFL is Michigan's law for medical marijuana and has provisions for types of licenses that include:
Cultivation and growth (classes A, B and C)
Extraction and processing
Secure carriers
Refueling centers
Security Compliance Facilities
Running a successful dispensary in Michigan
Once you've determined and obtained the appropriate license, it's time to start preparing to launch your dispensary. Even with a license in hand, not preparing properly can prevent your business plan from taking off. Here are the most important steps to open and run your MI dispensary:
1. Make a plan to stay compliant
Compliance should be your primary goal as a dispensary owner, as failure to follow regulations can result in closure or loss of license. The state enforces strict regulations for dispensary construction locations, sales, tracking, inventory control, and more. You need to equip your dispensary and its staff with the tools necessary to stay compliant. For example, you should develop a clear protocol for adhering to MI marijuana dispensary laws such as:
Verification of the client's age, identification and/or medical marijuana card, if applicable
MI Cannabis Purchase Limits Enforcement
Track all transactions and inventory
Report to

Metc

– the statewide seed for sale system
2. Be proactive with inventory management
The state expects all dispensaries to use a third-party inventory control and tracking system to report a detailed assortment of data to the official Metrc system. Inventory tracking should include all plants, products, and packaging, along with a myriad of additional data. Batch and lot information must be documented, and you must select a cannabis inventory management system that meets all MI requirements, including the ability to seamlessly integrate with Metrc. Cova fully respects these rulesand our automated capabilities will keep your inventory processes stress-free.
3. Choose a robust cannabis POS system
When you are shop for cannabis retail POS systems, reliability and performance are essential. Since your dispensary needs to track and report a large amount of data, you'll want to invest in a system that will save you time and effort and reduce the risk of human error. Cova is an ideal option for cannabis POS systems in Michigan, especially because our outlet has two-way integration with METRC. Cova cannabis retail software has features to meet all your needs, including fully integrated identity verification, tracking and reporting, and built-in purchase limit enforcement.
4. Choose your dispensary equipment
Make sure your dispensary has all the hardware essentials and all items are fully compatible with your favorite POS software. You will need items such as scanners, scales, shelves and drawers.
5. Consider offering a delivery service
In Michigan, the delivery of medical marijuana is permitted once a dispensary's procedures have been approved by the MRA. If you're opening a medical supply center, integrating delivery can be a smart way to stay ahead of the competition.
6. Put customers first and build your brand
As with any business, it will be extremely important to differentiate your dispensary's brand from competitors. Demonstrate to customers that your dispensary knows and understands their unique needs and use as many tools and resources as possible to learn more about your niche market. For example, Cova's data analysis tools for dispensaries gives you invaluable metrics that highlight performance points such as traffic patterns, top-selling products, and more. Make your dispensary unique and improve customer experience with excellent data tracking and analysis. Not only will your customers enjoy the same, but you can expect increased profitability in the long run.
Choose the right cannabis technology partner
Opening a dispensary in Michigan can be a great opportunity to join the growing cannabis market. The potential for success is great, but you must first furnish your pharmacy with the essentials. Our state-of-the-art cannabis point-of-sale and inventory management software is a smart investment for Michigan dispensary owners because it streamlines operations and makes compliance as easy as possible. Learn more about how Cova The Cannabis Retail POS System Can Help You Achieve Your Goalsor sign up for a free Cannabis POS Software demo today and learn how we can help you establish a successful dispensary business in Michigan.




#Open #Run #Cannabis #Dispensary #Michigan