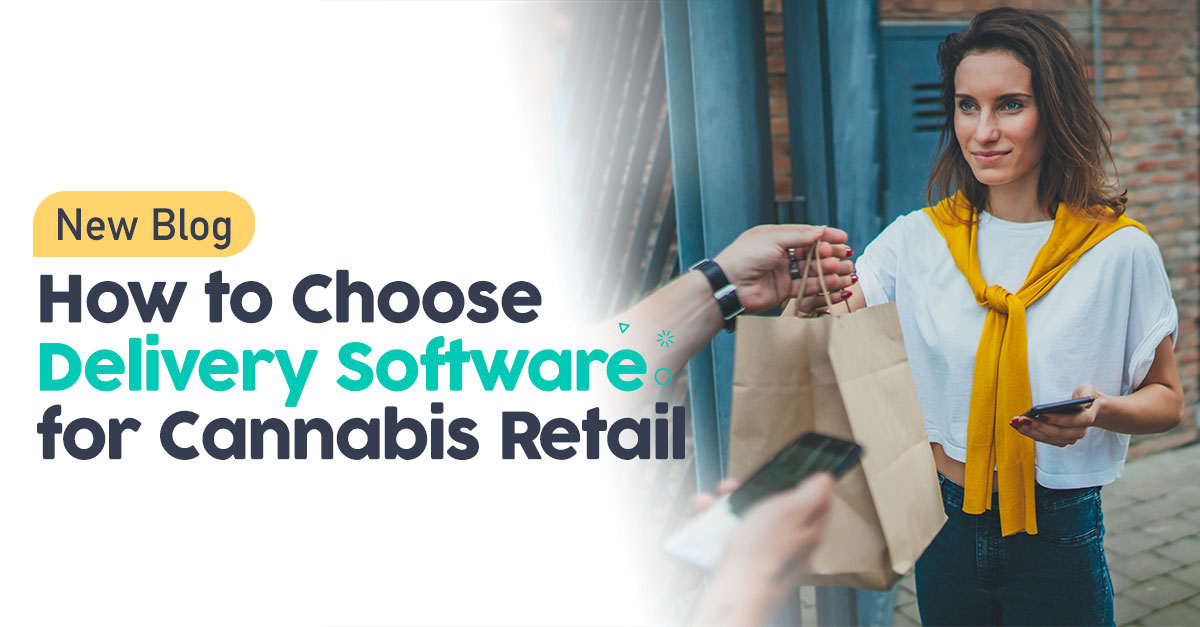 The pandemic and the preference for convenience have certainly changed the way people buy just about everything, including cannabis. There was a significant increase in E-commerce and delivery orders for cannabis products over the past two years – and these revenue streams are poised to grow as new consumers enter the market. Clearly, cannabis retailers across North America are struggling to keep up with delivery demand as they adapt to these changing times, which means the trend is here to stay. And if you don't offer delivery services at your dispensary, your customers will order elsewhere.
A cannabis delivery the service requires little overhead if you already have a physical dispensary location. Of course, transport and security costs would involve an initial investment, but you will get a high return in the long run. With a plethora of cannabis delivery software options available on the market, retailers are spoiled for choice. However, to grow your dispensary business, there are some must-have features that you cannot compromise on. Here are five considerations you should take into account when choosing cannabis delivery software for your dispensary.
1. Cannabis e-commerce and online ordering
For cannabis delivery to be successful, your dispensary must have a E-commerce platform not only to manage online orders, but also to facilitate the logistics of delivering cannabis products. Your e-commerce platform should integrate with your point-of-sale system and delivery management software to enable a seamless shopping experience. Some key e-commerce features to consider when choosing a cannabis delivery software suite are:
Online ordering and delivery documentation
Verification of customer identification for name and age
Area Code Validation for Legal Cannabis Delivery
Dynamic sales tax calculations based on local region
Integration of marketing tools and loyalty program
With a robust cannabis e-commerce and delivery platform, you'll connect directly with your customers and have more control over reaching your desired target market while remaining relevant to consumers who may not too visit the window of your cannabis dispensary.
2. GPS tracking and fleet management
The ability to dispatch delivery drivers with the correct order and to track cannabis deliveries with GPS are crucial elements of delivery software. The platform you choose for cannabis delivery should allow for simplified route planning, real-time adjustments, obstacle notifications, delivery time, and live ETA. You should also have the ability to choose between the pizza delivery model and the ice cream truck model, depending on your goals and needs, and have full control over the economy of your delivery zones in accordance with application and local zoning laws. Optimized management of delivery via the chosen platform must allow the following:
Geo-fenced areas for extended reach
Reduced fleet mileage and fuel consumption
Real-time vehicle tracking and visibility
Full control of fleet and inventory allocation
Modification of delivery routes as needed
With streamlined fleet, route, and driver management, you'll be able to efficiently complete your cannabis delivery, even during peak order times, and increase your dispensary revenue.
3. Inventory management and analysis
Inventory management is hard enough when it comes to perishables – adding another layer of cannabis tracking for delivery orders should be a seamless process with your chosen delivery solution. When delivering cannabis products, there is a high risk of losing or misplacing inventory, which may result in an investigation by authorities. Therefore, detailed real-time tracking and synchronization of all inventory between your dispensary technology solutions is essential to ensure reporting compliance with Metc and a successful dispensary delivery business.
Also find out if cannabis delivery management software can measure and report on your dispensary's most important KPIs, and how the delivery platform can help you achieve success. Analytics gained from deliveries made through the platform should help you optimize future deliveries while increasing speed and reducing costs. With a complete centralized system inventory management robust system and analytics, you'll maximize your dispensary's operational efficiency and always stay one step ahead.
4. Cannabis compliance and traceability
Dispensary owners face a variety of compliance challenges in the highly regulated cannabis industry anyway, and expanding delivery shouldn't be a headache. There are potential risks associated with cannabis products leaving immediate store control or cash payments in unfamiliar quarters. Delivery software that is fully compliant with all cannabis laws, that syncs seamlessly with government seed-to-sale tracking systems like Metrc, and allows you to track your inventory and delivery fleet in real time is undoubtedly your best choice to mitigate risk and ensure dispensary compliance.
Cannabis retailers must have a full understanding of the technology laws applicable to the market in which they operate. Potential violations could cost you thousands of dollars in fines, or even your cannabis license, so make sure your chosen delivery software fully integrates with the dispensary's POS system, order flow, and checkout process. payment. Proactively investing in technology infrastructure and regulatory safeguards will create a solid foundation to grow your dispensary business with cannabis delivery.
5. Integration with POS ecosystem and Cannabis Tech
Last but not least, your cannabis delivery solution should integrate with your technology infrastructure and point-of-sale software for efficient fleet management, inventory management, transactions, and payment processing for a turnaround time. fast execution. Your retail POS system should provide the flexibility to integrate with the delivery solution you choose. With Cannabis POS by Cova and its seamless integrations into a growing cannabis technology ecosystem, including delivery software like WebJointthe order automatically appears with the required documentation for optimized routing and delivery, and the system updates your dispensary's inventory once payment is approved and the sale is offered.
In the near future, delivery orders are expected to account for up to 40% of the cannabis retail market. This is already the case in mature markets such as California, where more than 54% of cannabis users make purchases exclusively by delivery. Cova's partnership with WebJoint, the largest US dedicated cannabis delivery platform used by more than a third of dispensaries in California, will allow you to create an amazing customer experience, automatically dispatch orders for pickup and in-store delivery, track inventory and always stay compliant with local and national regulations.
Embrace change and perform at your best
With the growing demand for legal cannabis products, only dispensaries planning to embrace the new wave of convenience and effectively adopt delivery technology will succeed if they choose the right technology partners. With Cova and WebJoint, your cannabis dispensary delivery business will increase your profits and always keep you a step above the rest. Click below to start now.




#Choose #Cannabis #Delivery #Software #Dispensary