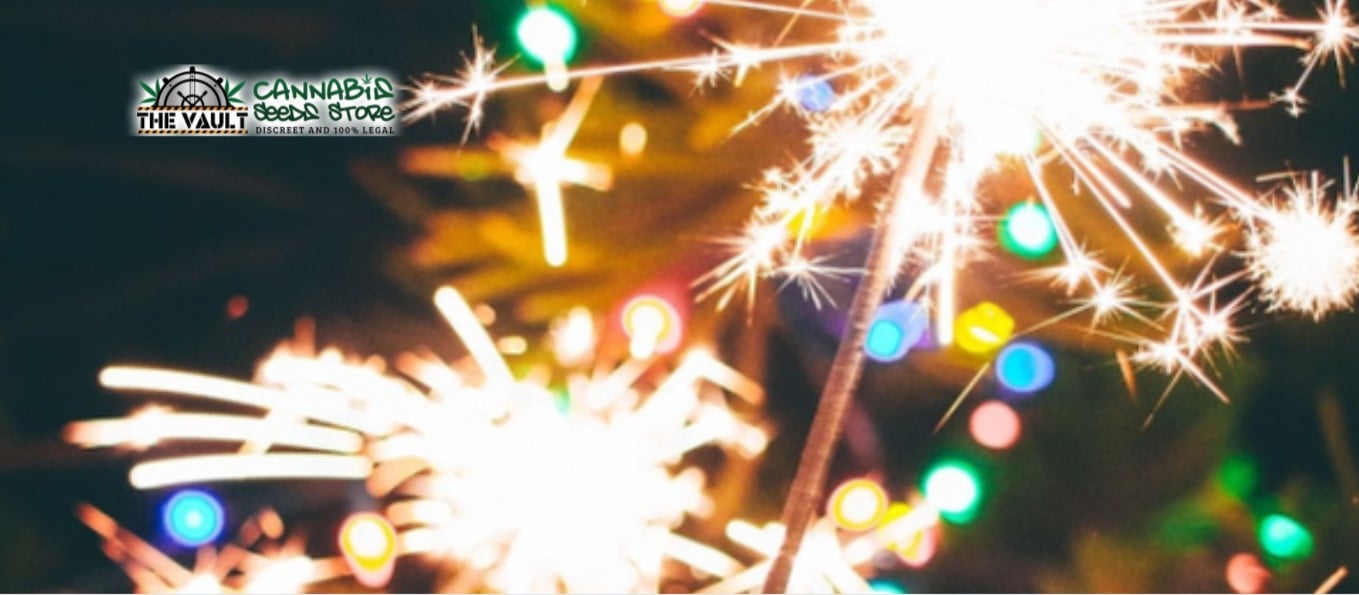 Now that we've survived Christmas, it's time to start thinking about the other potentially terrifying holiday, New Years Eve. Just like Christmas, this night can mean different things to different people. Maybe you are extremely excited to get lost and run around with your best buds, flashes of fireworks and Auld Lang Syne screams at the top of the lungs. Maybe you are overly anxious and dreading the pressure the night is putting on you to have a good time even though you hate crowds, noise and others. Maybe you're one of the unlucky few who have to work on New Years Day, so you're just trying to get a good night's sleep through the hoots and howls of celebratory masses. Whoever you are this New Year's Eve, there will be a strain that is just right for you.
This strain is an absolute classic for party animals. Honestly, this year you're more likely to attend some sort of party indoors due to the new variant. She is the perfect strain for house parties because she is cheerful, energetic, and fun. No chance that this will put you or your guests in a premature coma before the big countdown. This strain not only has an uplifting high, it also has an incredibly fruity aroma and flavor that is mouth-watering. She comes from Thai and Jamaican genetics, which is part of the reason her THC level is usually around 22%. Maybe don't overdo it with this boy, especially if you and your guests aren't heavy smokers. This strain is also award winning and took 3rd place at the 2003 Cannabis Cup. Laughing Buddha has a flowering time of 70-75 days and can be grown indoors or in a greenhouse.
It is another popular party variety due to its energetic and long lasting effects. Chronic Haze can be hit early in the night and will still have you ringing the bells. Unsurprisingly, this strain is a combination of Chronic and Haze, two exceptional strains. THC is around 20%, so it's decently strong. Another one that you might want to watch out for if you are also drinking. Some people experience a slight paranoia when they smoke too much of this strain, so probably don't overdo it. This strain has a flowering time of 60 to 70 days and can be grown indoors, outdoors or in a greenhouse.
If, like me, you're a slightly anxious party animal, you might enjoy something that will reduce your general fight-or-flight reflex. This strain is calming, relaxing and calming without being drowsy. She is a Sativa dominant strain so you will stay in the party mood, you might not be so terrified of everything all night long. Widow Remedy is a combination of Tijuana and Kerala genetics with a bit of Afghani for good measure. Medicinally, it is generally used by people with pain, nausea, or anxiety. This strain is also ideal for anyone suffering from a little year-end depression that threatens to ruin their evening. This strain has a flowering time of 55-65 days and can be grown indoors or outdoors.
This strain is ideal for anyone who really wants to be a part of the festivities but feels a bit on the side when the going is going. Cherry pie is soothing and relaxing but also very uplifting. All the anxiety and nervous energy will melt away to be replaced by a genuine urge to have fun. Cherry Pie is full of amazing genetic material including Cherry AK, Purple Punch, Kush, and Skunk. This is another medicinal variety which is used by people with anxiety disorders as well as a variety of other issues so you know it will do no matter how bad you are feeling. wrong beforehand. This strain is also well known for boosting creativity and productivity, so if you have things to finish before you go somewhere, it can work in several different capacities. Cherry Pie has a flowering time of 56 to 70 days and can be grown indoors or outdoors.
Are you one of those poor people who have to work as usual on New Year's Day? Many of us forget that there are many who are not enjoying both Christmas and New Years. Maybe you are going to have to go to work in a busy pub or restaurant tomorrow, but you just live. above a main street? In that case, you could benefit from something like Hindu Kush. Relaxing and soothing body tension that will have you dead to the world in no time. Fortunately, it's also a medicinal strain that treats nausea, pain, and stress well. I can be sure that you are stressed. This is a great bath strain with its earthy, woody scent that almost smells of incense. This is the strain for those who just need help relaxing before bed so they can sleep well rather than being completely sedated. She has a short flowering period of 45-50 days and can be grown indoors, outdoors or in a greenhouse.
This strain is nothing short of a legend and for good reason. If you've never heard of her before, I don't know where you've lived, but she is definitely the "Hail Mary" of sleep disorders. If you are stressed, light sleeper, in pain, anxious, anything that could keep you awake on New Years Eve, then the Northern Lights can help. This is another powerful and relaxing whole body high with an uplifting touch that will make you feel like all is well in the world. Her THC level is only 14%, so she won't poison you with active dreams. Northern Lights comes highly recommended as a medicinal strain, especially for those who suffer from insomnia. No matter what is going on outside, no drunken cry will wake you from your restful sleep. This strain has a flowering time of 9-10 weeks and can be grown indoors or outdoors.
Newsletter Sign-Up
Make sure you never miss another Vault promotion – sign up for our newsletter at https://www.cannabis-seeds-store.co.uk/the-vault-newsletter
Remember: It is illegal to germinate cannabis seeds in many countries, including the UK. It is our duty to inform you of this fact and to urge you to obey all your local laws to the letter. The Vault only sells or sends seeds for souvenir, collectable, or novelty purposes.
photo by Marisol Benítez to Unsplash


#Strains #Years #Eve