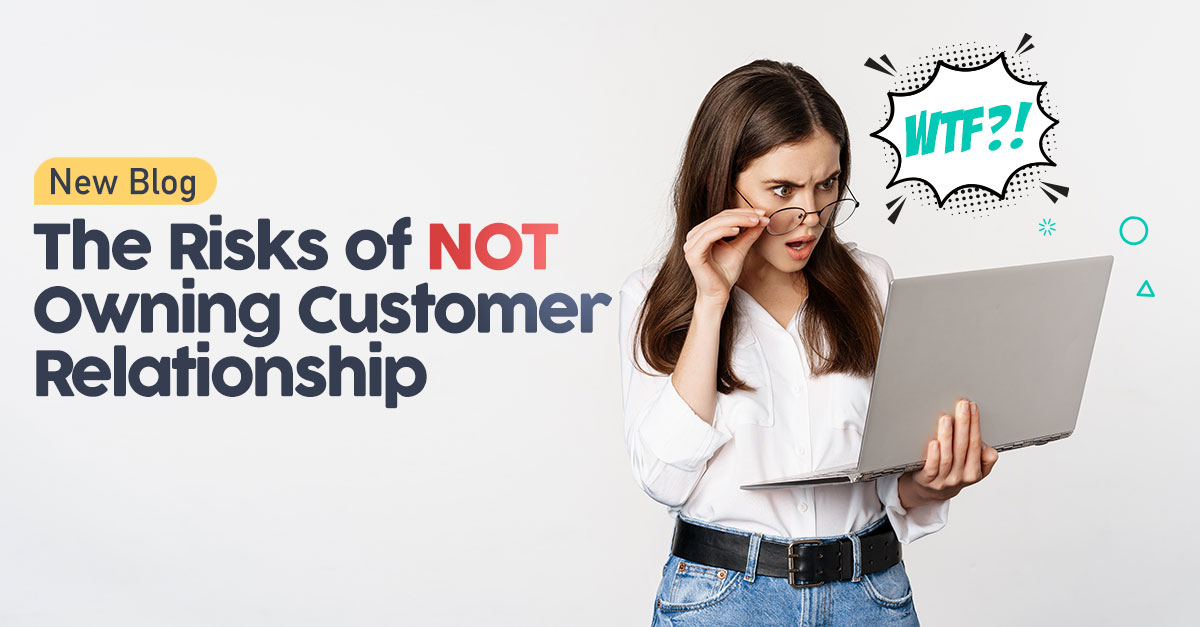 The latest chapter in the legal cannabis industry is happening online, as cannabis retailers adapt to changing consumer behavior and offer e-commerce and delivery services. However, our industry is different from traditional retail, and with stringent requirements such as online age metrics, cannabis purchase limits, and data limitations, many dispensary owners find it difficult to navigate the cannabis e-commerce, provide an excellent online consumer experience, and create a thriving relationship with their e-commerce customers.
Of course, there are several e-commerce solutions available on the market, but many of them, especially third-party cannabis marketplaces, come at the cost of losing a direct relationship with the customer. As seen in other industries, big tech partners like Amazon and Doordash only care about themselves. While similar cannabis tech companies may initially help you quickly build your business online, eventually they will steal your customers and not owning the customer relationship will put your business at risk.
1. Customer interactions limited to third-party platforms
In a recent Benzinga featured articleOliver Summers urges retailers to "Avoid like the plague platforms and 'partners' that seek to take over your customer relationships, such as Amazon, Grubhub or Dutchie." He also says, "When dispensaries allow an aggregation platform to take over customer interactions, they lose access to both that data and the ability to represent their brand to the standards developed."
When you use a third-party platform or marketplace to sell your products online, most customer interactions remain limited to their brand because people go through the entire buying process on their website. Additionally, the third-party marketplace's brand is more prominent than yours on their domain, so your customers will become loyal to the third-party as they become familiar with their look, feel, and experience. Therefore, you risk losing their business in the long run if you do not own the customer relationship directly through your own cannabis e-commerce websitewhich is better for your dispensary brand visibility.
2. Marketplace increases brand value at your expense
Quote Oliver Summers again, "Companies, like Dutchie and others, place all the financial risk on dispensaries by staking the dispensary's name, license number and brand image and offering very little in return. Dispensaries pick up costs, legal fees and summary processing fees and lose the important customer relationship they once had.
Hosting your cannabis e-commerce website on a third-party marketplace will always result in a poorer dispensary brand experience, as retailers have no control over it. Only the service you pay for will have brand value. Think of consumers ordering clothes from Amazon or delivering food to Doordash — these businesses have such high brand value that people can't even remember the names of the brands or restaurants they're buying from. Even when it comes to packaging, delivery packages are printed with Amazon, which only makes their brand more visible and valuable. In the long run, customers will become loyal to the platform and not to your brand.
3. Your dispensary data may be used unethically
Your brand value and customer relationship are also closely tied to the consumer data you collect and can leverage. However, when using a third market platform for your e-commerce, you do not directly own any customer data and only the third party has access to it. When your customers purchase cannabis from a third-party platform, their data may be sold to your competitors who may pay a higher commission to the marketplace platform. Or worse, this data can be used to bypass you and establish a direct relationship with your customers. And even if in the future, you decide to separate from this partner, he could still keep your customer data and direct the buyer elsewhere, since he owns the customer relationship.
4. Compliance Violations and Licensing Risks
When you don't own your e-commerce platform or customer interaction, you expose your dispensary business to a variety of compliance risks, including online sales to minors and purchase limit violations. Depending on the regulations in your state or province, you may end up inadvertently selling cannabis through a platform not approved by regulatory authorities. For example, in Alberta, the The AGLC has mandated that cannabis retailers host their e-commerce store on their own company domain and not on a third-party domain. Any violation could result in the cancellation of your retail license, which is indirectly misused by third-party marketplaces to build their own online business.
5. You lose the ability to innovate and grow
Third-party online marketplace platforms have started offering "all-in-one" solutions for dispensaries as they bring their own point-of-sale systems to market. By outpacing customer interactions and capitalizing on consumer data, they indirectly own your customers and your dispensary business. And without any online SEO authority for your cannabis e-commerce, which only benefits the market, you will also not be able to acquire new customers organically. Once locked in with an all-in-one solution, your dispensary POS loses the ability to integrate with advanced technology solutions better aligned with your retail vision, and thus, you lose the ability to innovate or grow your business.
In other featured article by cannabis business executivesSteve Gormley talks about Dutchie, which now provides a point-of-sale (POS), e-commerce and payment processing platform, "This growing giant completely bypasses consumer interactions at every stage of the buying process to own the relationship and the data that flows from it, leaving retailers with a digital storefront that seems indistinguishable from others and no ownership of their own valuable data."
Own your cannabis e-commerce and customer relationship
If you want to grow your cannabis retail business and succeed in the e-commerce space, avoid all-in-one technology platform providers and instead develop all your services in-house. If you form a partnership, make sure it is mutually beneficial. With Cova POS and our seamless integration with top e-commerce partners, you can build and host your own custom cannabis e-commerce and delivery platforms while retaining full ownership of consumer data and relationships. Start your cannabis e-commerce journey with Cova now.




#Risks #Owning #Customer #Relationship #Cannabis #ECommerce